Sleep Science Reviews: 

Best Nightlights
Sleeping with the lights completely switched off is not for everyone. It can be quite terrifying, really. Conversely, however, sleeping with the lights on tends to be bothersome. The long-standing demand for nightlights is another result of thousands of people who just seek a good night's sleep.  
There is a scientific reason for this. The presence of light hinders our bodies from producing Melatonin, a hormone that conditions you to sleep. Its production increases the darker your room is. This is exactly why new nightlights are constantly being brought into the market – often with new features to enhance your sleep experience. 
Factors to consider when purchasing a nightlight… 
Price: This is important if your main goal is to find the cheapest working nightlight on the market, however, always remember to compare the price to its quality and features. Always ask yourself if it's worth the money you will end up spending. 
Brightness: Some nightlights are powered to give more (or less) light than their competitors. Luckily, Sleep Science read the myriad of reviews made about these products and compiled them all so you can read them in one sitting. 
Additional Features: Other than being a light source, some nightlights come with features that may be value-adding to your sleep. It would be wise to go over their features and see if those are good for you, or if they are just additional pain points for your sleep. 
Store Policy: Nightlights are prone to being defective with all the technology that goes into making one. As such, it's great to check how long you can try out the product. It might also help to view their policy for returning the product.
Awards:
Best Convenience: Casper Glow Light 
Best Price: BlissLights Sky Lite 
Best Overall: Philipps Wake-Up Light 
Sleep Science decided to research the following products…

 
Best Convenience: Casper Glow Light 
Price: 109 GBP 
Trial and Warranty: 30-night trial, 12-month Warranty 
Casper's Glow Light is described as the light that will help us wind down naturally for better, deeper sleep. It emits different levels of light depending on which sleep phase you are in. For example, its warm light mode is supposed to cue your body to go to sleep, while its dimmer mode will aid you in falling deeper into sleep. If any of its modes end up becoming too bright or dim, the nightlight has a built-in gyroscope that lets you change its brightness easily. 
Additionally, the nightlight comes with an app titled "The Glow App". Its main features include allowing you to schedule when your nightlight will make its brightness conducive to waking up.  
With its multiple dimming modes, easy set-up process, and wireless charging, Sleep Science definitely saw Casper Glow Light as the best when it came to convenience.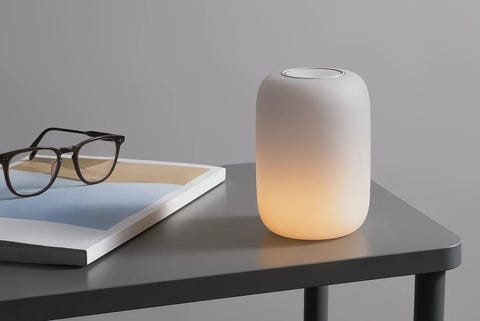 Why some buyers loved it… 
It's portable with a sleek design

 

Its wireless charging provides convenience

 
Why some buyers disliked it… 
It's not compatible with Alexa and Google Assistant, so it cannot be voice-controlled

 

Its price is quite high

 
Best Price: BlissLights Sky Lite 
Price: 34.99 GBP 
Trial and Warranty: 1-year Warranty 
This lighting fixture will literally make you see stars for an out of this world bedroom experience. Sky Lite projects a starry night sky across the ceiling with dim cool tones to help you fall asleep easier. While its moving stars and blue nebula clouds give your bedroom a better vibe, its brightness settings and light effects will allow you to adjust the light depending on how much of it is needed for you to sleep. 
Sleep Science labels BlissLights' Sky Lite as the best in price because of the sheer unique experience you can get for its greatly competitive price point. Compared to the other lights on the market that are priced at nearly 100 pounds, Sky Lite provides a high-quality projection of the sky for less than half the price.
Why some buyers loved it… 
Its design is unique to the other nightlights that can be found on the market

 

The quality of the projected images is quite high

 

It can be powered by plugging it into a socket, so you don't have to worry about the nightlight running out of power in the middle of the night

 
Why some buyers disliked it… 
While it is powered by a plug, its timer will only let it run for a maximum of four hours as opposed to the marketed six hours

 

It has several durability issues – from the packaging to the nightlight itself

 
Best Overall: Philipps Wake-Up Light 
Price: 84.99 GBP on Amazon 
Trial and Warranty: 30-day Trial 
This light doubles as your personal alarm clock. Its lights mimic the sunrise to simulate the refreshing feeling of waking up at dawn. The usage of warmer tones is supposed to signal your body to wake up naturally, and this is only reinforced by the natural sounds you can personally choose to accompany the device. 
Other than choosing from five different wake-up sounds (Forest Birds, Buddha, Yoga, Ocean Waves, and Nepal Bowls), there is also an option to wake up to the sound of your favourite radio station.  
Philipps' Wake-Up Light provides you a nightlight, an alarm clock, and an ambient noise machine in one for less than 90 pounds. With the product's sheer amount of features, Sleep Science identified this nightlight as the best overall.
Why some buyers loved it… 
Its lighting definitely delivers through being not too bright

 

Its features are great for people who live in more dark and dreary areas

 
Why some buyers disliked it… 
The set-up process is quite difficult

 

Turning off the alarm requires pressing one of the few buttons on the alarm, which is not easy when you're groggy in the morning

 
Product Comparison
Product

 

Price

 

Features

 

Why you 

should 

purchase it…

 

Why you 

shouldn't 

purchase it…

 

Casper Glow Light

 

109 GBP

 

Provides a portable and easy nightlight with adjustable brightness.

 

Portable, adjustable brightness, wireless and convenient

 

Expensive, incompatible with other home technology

 

Bliss Sky Lite

 

34.99 GBP

 

Brings the galaxy into your own bedroom.

 

Aesthetic, clear imagery, brightness settings

 

Inconvenient due to it resetting every four hours

 

Philipps Wake-Up Light

 

84.99 GBP

 

Mimics a natural sunrise for a great start to your morning.

 

Warm lighting and various auditory options

 

Difficult set-up process, too many buttons

 
In Summary…
Nightlights are such an important component of one's bedroom, so it only makes sense that thorough research is needed to find the best one for you. The products listed in this article do provide different types of light settings on top of their own additional features, so just remember to discern what your core goals are for purchasing a nightlight for your bedroom.  
Sleep Science is dedicated to reviewing the most popular sleep products to help you improve your sleep. You can look into our review on the best sleep trackers.